.:about
November 22, 2023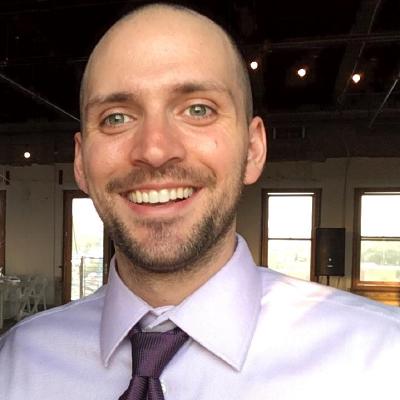 welcome
Greetings! Thank you for taking the time to visit!  Please see the following the sections to learn about me.
professional life & recent history
I am an engineer in Portland, OR, currently employed as,
Overly Fancy Titled Engineer at WalmartLabs
Previously,
Engineering Manager at WalmartLabs
Senior Software Engineer at Tripwire
Software Engineer at The Mind Research Network
Automation/Test Engineer at LAM Research Corporation
Manufacturing Engineer at Novellus Systems
Industrial Engineer at Intel, Digital Health
I have been steadfastly engineering solutions to diverse problems since 2008! I am privileged to have experience in software, mechanical, electrical, and manufacturing engineering.
Education is a deep core value of mine. A strong foundation in academic principles is a defining characteristic of an engineer. I have actively sought out technical knowledge and wisdom in my career, and have achieved the following:
MS Computer Science (Georgia Institute of Technology, 4.0, 2018)
BS Computer Science (equivalent, no capstone) (Portland State University, 3.8, 2014)
BS Industrial Engineering (Oregon State University, 3.92, 2010)
BS Manufacturing Engineering (Oregon State University, 3.92, 2010)
Business & Entrepreneurship Minor (Oregon State University, 3.92, 2010)
My completion of a masters degree is a direct reflection of my commitment to excellence in engineering design. I have a passion for the craft, and want to produce the best quality work that I can.
I completed my Industrial, Manufacturing, and business certifications at Oregon State University back in 2010.  I finished with honors, a 3.92 GPA, and two MECOP internships.  I was also awarded most outstanding senior in the college of Mechanical, Industrial, and Manufacturing Engineering.
work philosophy
I strongly value the opportunity to work.  I believe that work is an privilege, not a chore.  I also believe that the most fulfilling work is that which supports the community.  I have been lucky to receive an excellent education and to have built an excellent professional support network, thus, I have been able to work in jobs that I believe fulfill my 'community uplift' criteria.  I do not regard many industries to be value-add, and in these sectors I hold no professional interest.  Research firms, design firms, manufacturing firms, and even consulting firms are where I believe value is generated for society. It is in these industries that I have worked and will continue to work.
off hours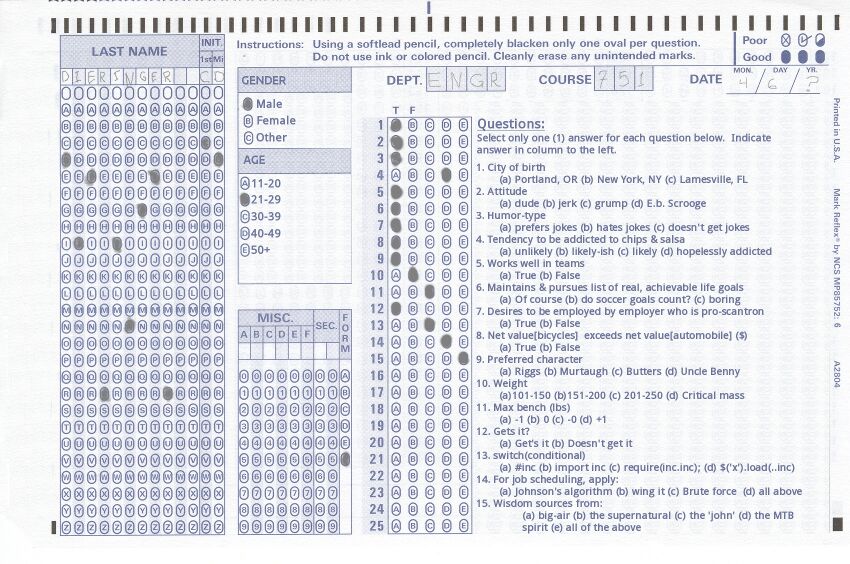 Personal Scantron. I was once as young as it claims 😵‍💫
Off hours, you will observe me most easily as a cyclist, as a geek, and certainly as keeping Portland Weird. The sun does not come out much in Oregon, but lack of sunshine has not deterred me from a significant amount of road, mountain, and cyclocross riding.  I have been on teams, clubs, and ridden independently.   I was previously heavily involved in the reprap community, building documentation, models, firmware, & helping novices get their machines running. I still love to "wow" students & friends with the simplicity of FFF printing. In 2013, I published my own printer design, including the full CAD and build instructions under the OpenHardware philosophy. Check out my machine, cOssel! Of course, as a software geek, I spend a great deal of time hacking away on projects as well. I was previously active on the AmpersandJS Core Team, and still partner regularly with local advocacy groups, such as Portland Clean Air.
resume & references
To download my resume in .pdf format, please click here.
Due to privacy issues, please contact me directly to obtain references.
Thanks
Thank you for visiting!
-Chris Dieringer